Kid (and Dad) Friendly Breakfast in Bed Ideas for Mum
Mums are the best. They deserve to be treated to a sleep in followed by a delicious brekky in bed. If the kids are getting involved (and they will want to!), the whole process might get a little complicated and messy. We are here to fix that. These recipes are kid (and dad) friendly, made from ingredients you probably already have in the pantry and will be sure to impress the special mum in your life. Mums, stop reading now and leave the work to us. You might just have to tag your hubby and/or kids so they take the hint ;)
FRUIT SKEWER BOUQUET
Method:
Gather together a variety of fresh, yummy fruit (tailor made to include mum's favourites, of course!), some skewers (different sizes look effective but one size works just as well), some different shaped cookie cutters and a wide vase (looks better if it isn't transparent).
Make sure all of the fruit is washed thoroughly and then cut fruits such as pineapple, watermelon, apple etc into shapes using cookie cutters (stars, hearts, flowers….whatever you have available to you). Let the kids skewer the fruits on in whichever pattern they like, using raspberries, strawberries, blueberries, grapes etc. to enhance the pattern.
Arrange the completed fruit skewers in a vase. Hint: put the taller skewers in the middle and the shorter ones around the edge.
Extra treat: Coat some of the fruit in melted chocolate or serve with a side of melted chocolate to dip the fruit in, yummy!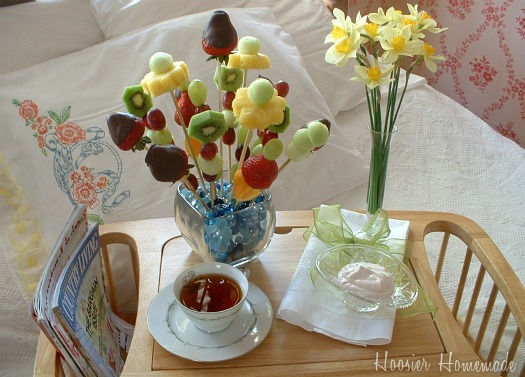 HEART SHAPED EGGS
Check out our egg recipe page for easy Toads in Hole recipe here. All you need to do is use a love-heart shaped cookie-cutter to make the hole in the bread. Very effective and mum will love it.
PANCAKE FACES
Use your favourite pancake recipe or grab a pancake mix and whip up a few simple pancakes. Then, let the kids creativity run wild. Use assorted fruit, chocolate (melted or solid) or bacon (whatever mum likes) to create faces on the pancakes. The kids might even want to do a pancake portrait of mum.
MICROWAVE BLUEBERRY MUFFINS
Method:
In a microwave-safe mug, combine ¼ cup of flour, 1 TBSP of brown sugar, ¼ TSP of baking powder, a pinch of salt and a pinch of cinnamon.
Add ½ TBSP of butter and get the kids to mix it in until it has a similar consistency to damp breadcrumbs.
Stir in approximately 2 TBSP of milk (enough the make the mixture a thick batter).
Sprinkle as many blueberries as mum likes over the mixture and let the kids push the blueberries into the batter, using their fingers.
Microwave on high for approx. 90 seconds or until cooked through (microwave cooking times will vary, depending on model and make).
CAFE STYLE SMASHED AVO
Method
Place a bit of mum's favourite bread in the toaster.
While the toast is cooking, get the kids to mash ½ an avocado in a bowl with a fork.
Season to taste with some fresh lemon juice, mint and salt and pepper and let the kids combine all ingredients.
Spread smashed avocado over cooked toast and garnish with crumbled feta or goat's cheese and some extra mint. Voilà! A café meal from the comfort of her own bed, what more could mum ask for!